Once we keep climbing the budget tier. More and more crossbows tend to show up with more potentials. As the budget will keep increasing, we will keep bringing glorious crossbows for you guys.
The budget we have here is $1500. Not the most expensive budget, not the least expensive either. It's a moderate amount of budget mainly set by veteran hunters. To satisfy their need, you need to make a crossbow with almost 0 cut corners. Satisfying every customer isn't an easy task to do. We will try our best to show you guys the best crossbows you can buy within $1500. Without further ado, let's get this started.
Technologies You Can Expect Under $1500
Even under $1000 crossbows, we have seen plenty of brands trying to showcase their technologies. It's obvious the brands above that budget will do that harder. Here are some technologies that you can expect within this budget.
HeliCoil Technology. A technology made by Ravin crossbow then adapted by other crossbows as well. It made Ravin crossbows far more useful and powerful. Centerpoint is also part of the mother company that owns Ravin. That's why Centerpoint uses HeliCoil technology on their crossbows. It increases the string longevity by a lot.
ACUdraw Technology. Made by Tenpoint crossbow, ACUdraw series of cranking devices are legendary invention to say the least. They have changed the crossbow game a long-time ago. ACUdraw Pro and ACUdraw silent cranking devices are two of the best cranking devices on the market. They will reduce the draw weight to almost non-existent and make your reload time much faster.
Noise Reduction. While crossbows are not as loud as guns, they are pretty loud themselves. The string noise can giveaway your location to the prey. That's why manufacturers includes their own made noise dampeners in the string and in the CAM system.
& many more…
How To Choose A $1500 Crossbow?
You need to consider some of the stuff that are quite necessary in a crossbow. let's talk about those for a bit before jumping in the reviews.
Speed is and always will be one of the major deals on a crossbow. If the crossbow is not fast enough to participate in big-game hunting, then you should reconsider the choice. You are spending a lot of money on a crossbow. Speed should be one of the top priorities.
Kinetic energy is the amount of raw power the crossbow can generate behind each shot. Depending on crossbow models, the energy can be a lot. Anything above 100lbs is more than good for all sorts of hunting.
Draw weight is the required force to load each bolt in a crossbow. Cheap crossbows tend to have a heavy draw weight. But more expensive one counter that problem with the included cranking devices.
Width is the axle-to-axle measurement of a crossbow. The lower it is, the easier it is to carry the crossbow around. A lot of crossbows in this budget range is quite small in shape and sizes. That's a good thing to a lot of people. While maybe a bad thing for tall hunters.
Accuracy. A crossbow needs to be highly accurate to land running shots. If the crossbow is highly accurate in a remotely controlled environment, then it will be accurate on-field as well.
Safety features varies from crossbow to crossbow. But the bare minimum should be anti-dry fire. As it stops the crossbow from misfiring. Misfiring while reloading can lead to accidents. That's why it's necessary.
Noise Suppression. While crossbows are not as loud as guns, the string noise can still be fairly audible. You don't want to let the whole pack know you are firing a crossbow over here. That's why it's always good to have some sort of noise suppressors installed in the bow.
Durability will vary from crossbow to crossbow. As different crossbows uses different materials to make crossbows. It will also depend on how the molding for the crossbow was made. Durability is quite important as you are going to use this crossbow for a while.
Ease of use. As the price increases gradually, the crossbows become more and more hard to use. That's why no one recommends a $3000 crossbow to a beginner who never held a crossbow before. While crossbows at this budget aren't always super straight forward, their learning curve isn't stiff either.
Warranty. A good warranty is always welcomed. I will say they are necessary as well. You don't want to run to third party fixers on the 2nd year of your purchase. That's why it's quite important to have a crossbow with good customer service feedback and easy to claim warranty.
---
1. Ravin R10 Crossbow Package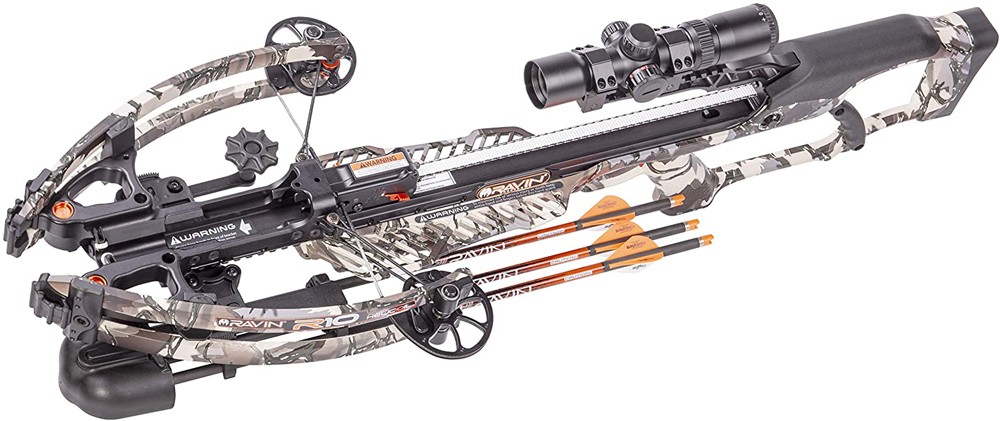 Specifications | Speed: 400 FPS; Kinetic Energy: 142 ft.lbs; Power Stroke: 11 Inches; Draw Weight: 270 LBS; Axle To Axle: 6 / 10.5 Inches; Length: 33 Inches; Weight: 6.8 LBS.
Ravin crossbows are one of the best enthusiast crossbows on the market. Made by hunters for hunters. It's safe to say Ravin has created quite a fanbase. Their Ravin R10 won the best crossbow of the year 2019 editor's choice award. A prized possession. Did the crossbow deserve it? It certainly did.
400 FPS. While you have seen other crossbows have 400 or more FPS for less, you probably haven't seen a crossbow that can fire up to 400 FPS each shot. The consistency on lower-end crossbows aren't there. They will get close but won't hit the bar every shot.
Lightweight and compact. Ravin R10 is one of the most compact crossbows on the market. Thanks to the reverse draw limbs, the crossbow has an axle-to-axle width of 6inches cocked. It's surprising how Ravin managed to pull that off. But I am glad they did.
142 ft-lbs of kinetic energy. With that much of energy, you can hunt any preys down. That's more than enough to participate in any hunting games or similar.
Off the roof accuracy. The accuracy of this crossbow is astonishing. In a controlled environment, the crossbow can hit 3 out of 3 bullseyes. That's huge achievement.
Quick Facts:

Ravin R10 is one of the most complete crossbows in this budget. No wonder it even ticks the mark in higher budget segment. It's one of the best crossbows you can buy under $1500. Yes, it's that good.
Pros
Excellent build quality.
Lightweight and compact.
400 FPS.
142ft-lbs of kinetic energy.
HeliCoil technology.
Deadly silent.
Highly accurate.
Good service and warranty.
Cons
The included scope is not the best.
---
2. Tenpoint Viper S400 Crossbow Package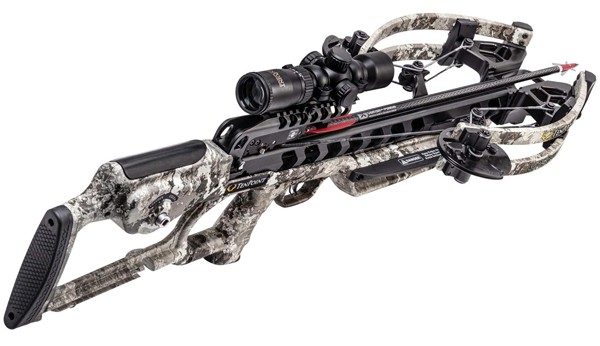 Specifications | Speed: 400 FPS; Kinetic Energy: 132 ft.lbs; Power Stroke: 11 Inches; Draw Style: Forward Draw; Axle To Axle: 7.2 / 11 Inches; Length: 32 Inches; Weight: 7.5 LBS.
Tenpoint is known to be a direct competitor of Ravin crossbows. Tenpoint makes some of the best crossbows as well. They even compete against Ravin on the higher-end market. The specs of this crossbow is quite bonkers. It's absurd just how far the competition has come. But that's good for us hunters. We are getting better stuffs for a good price.
ACUslide silent cranking device. ACUslide is the silent version of ACUdraw pro cranking device. Performs great like the counterpart but does it without making any noise. Something to think about in the middle of a hunting ground.
Improved Accuracy. According to Tenpoint their Viper S400 has over 48% gain in accuracy over the previous gen crossbows. Now that's an incredible feat. We love to see that happening.
Micro-Trac barrel. Thanks to this, the string longevity increases by a lot. It's guaranteed that each string will fire arrows for 1000 times. That's a new industrial accomplishment.
Safe Decocking. ACUslide also makes sure you have a safe process of decocking the crossbow.
Sold as a complete package. The package includes arrows, quiver, and a capable scope. A good scope is rare on a crossbow. As manufacturers tend to cut corners when it comes to scope. But not here. The scope is excellent performing.
Quick Facts:

Direct competition of Ravin R10 and a strict one. It's an incredible crossbow for the money. While it lacks behind in power against Ravin R10, rest of the specs are quite similar.
Pros
Excellent build quality.
Compact and easy to carry around.
400 FPS.
135ft-lbs of kinetic energy.
ACUslide safe cocking and decocking.
Good scope included.
Cons
Tenpoint rates the arrows with different arrows. You need specific set of arrows to reach the claim speed and kinetic energy.
---
3. Excalibur Matrix Bulldog 440 Crossbow Package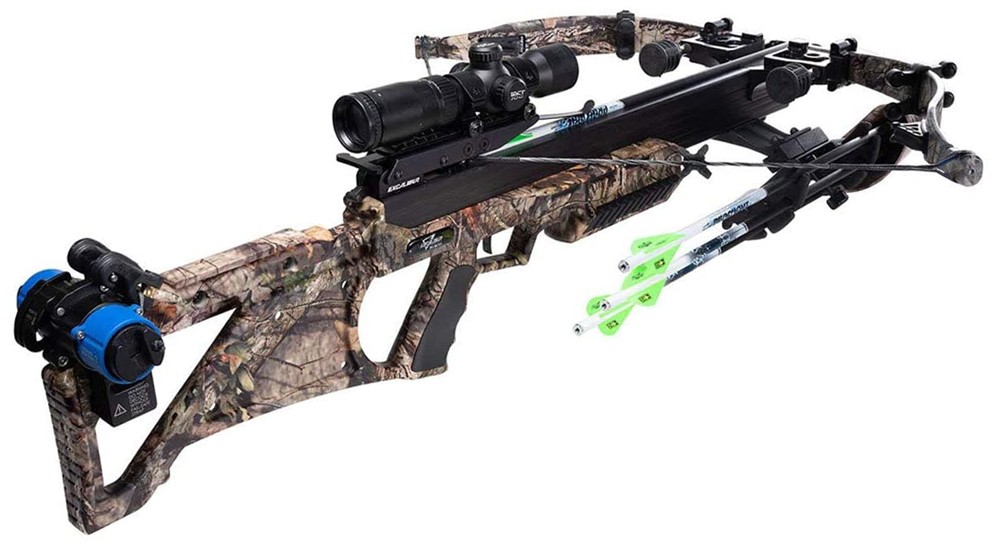 Specifications | Speed: 440 FPS; Stock Type: Bullpup Ready Rest; Cocking Effort: 15 LBS; Draw Weight: 300 LBS; Axle To Axle: 23 / 30 Inches; Length: 35.75 Inches; Weight: 6.2 LBS.
Excalibur Matrix Bulldog 400 is the only recurve crossbow on the list. Recurve crossbows are known for their ease of use. They are the easiest crossbow to use and fix. That's why a lot of hunters recommends recurve crossbows as their first bow. There is a reason why reviewers and veterans recommends the Bulldog 440. It's one of the if not the fastest recurve crossbow on the market.
440 FPS. Matrix Bulldog 440 is capable of reaching 440 FPS. Faster than the two compound crossbows we have showcased so far. The speed alone can be the potential reason to get this crossbow.
Lightweight. As recurve crossbows don't use the same CAM system like compound crossbows, they are not as compact as recurve crossbows. The weight of the crossbow is only 6.2lbs. That's fairly lightweight.
Charger EXT crank. Excalibur includes a cranking device called Charger EXT with their crossbows. The raw draw weight of the bow is 300 lbs. That's absurdly high for anyone. But thanks to the EXT crank, the required draw weight for this crossbow is only 15 lbs! How cool is that!
Quick Facts:

The fastest recurve crossbow under $1500. One of the fastest crossbows on the list. If you can ignore the bulkiness of this, you can easily rock this crossbow for the next 5+ years.
Pros
Fast and powerful.
Silent cocking.
Deadly silent shooting.
Lightweight.
Pro-shoot trigger.
Easy to setup and maintain.
Cons
It's quite large compared to compound bows.
---
4. Scorpyd Deathstalker 420 Crossbow Package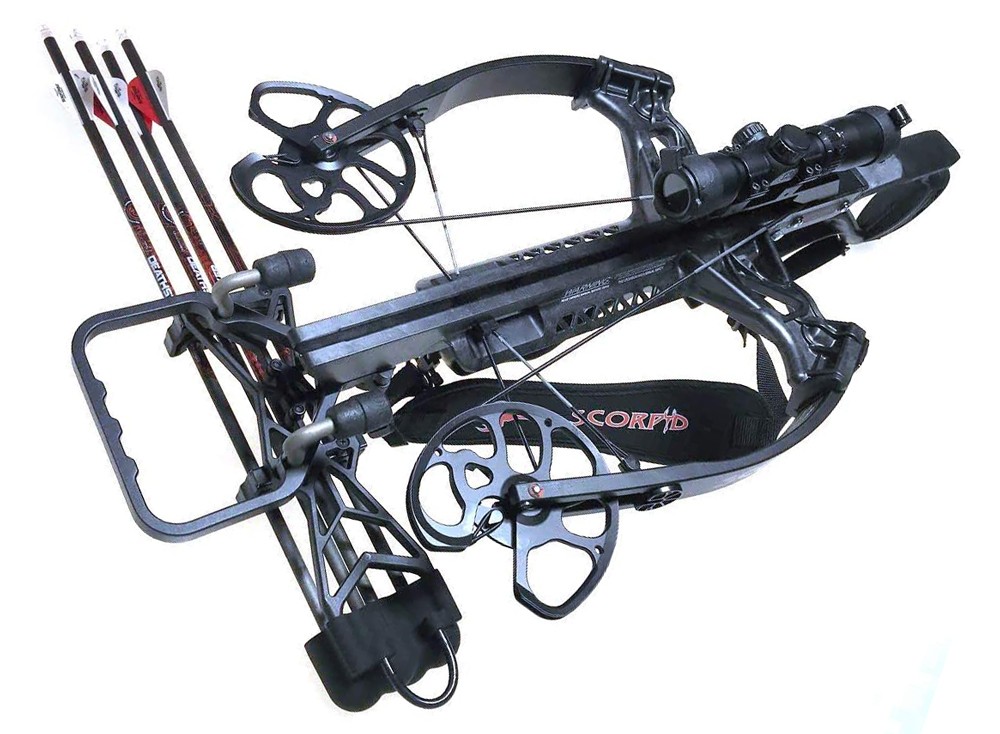 Specifications | Speed: 420 FPS; Kinetic Energy: 144.76 ft.lbs; Power Stroke: 17.25 Inches; Draw Weight: 130 LBS; Axle To Axle: 9.5 / 16.5 Inches; Length: 32.5 Inches; Weight: 6.2 LBS.
Scorpyd Deathstalker 420 is a reverse draw crossbow. Reverse draw crossbows are rare in this price-range. As they are difficult to make and requires more precision CNC cutting. Scorpyd has shown the courage to make one. And they ended up making a good crossbow overall.
Reverse Draw. Reverse draw crossbows have their limbs reversed instead of the traditional forward-looking limbs. This way, they can make the crossbow more compact. The axle-to-axle cocked width of this crossbow is 9.5" only. That's small.
420 FPS. As the name suggests, Deathstalker is capable of reaching 420 FPS. One of the fastest one in the review today.
Draw weight. The draw weight is another selling point of reverse draw crossbow. As the power stroke is shorter and the limbs are closer to the trigger, the draw weight is quite low on reverse draw crossbows. The draw weight here is only 130lbs.
One-piece Carbon Frame. Instead of traditional two-piece design, the entire frame of the deathstalker is made from carbon. Typically, we see CNC machined aluminum and synthetic stock on a crossbow together. Not here.
Quick Facts:

It's a lightweight, compact, easy to use reverse draw crossbow. To top it all, the crossbow looks hella cool. And it has our recommendation.
Pros
Sleek design.
Lightweight and compact.
Low draw weight.
420 FPS.
Highly accurate.
Silent.
Cons
The required arrows are lower weight. They won't hit as hard as heavy arrows.
Manual safety instead of automatic.
---
5. Tenpoint Stealth NXT Crossbow Package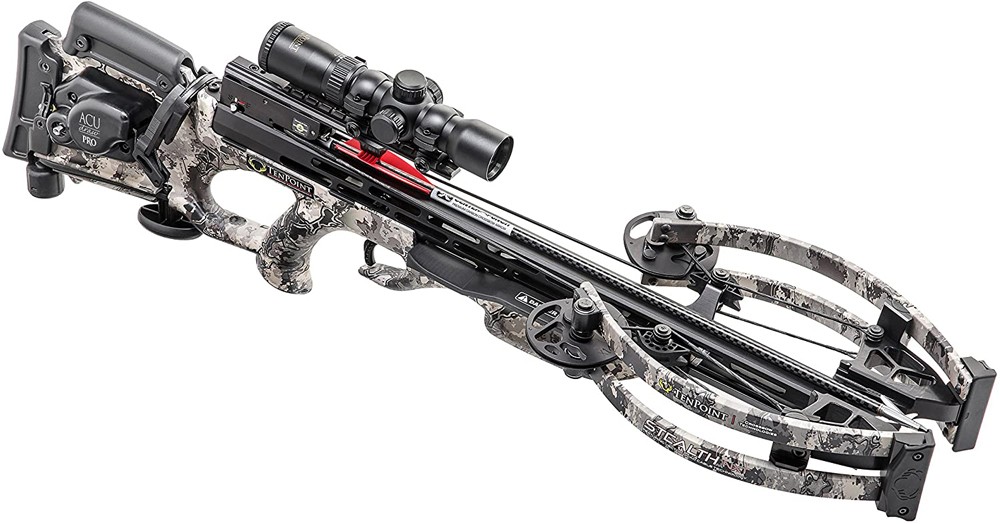 Specifications | Speed: 410 FPS; Kinetic Energy: 144 ft.lbs; Power Stroke: 13.5 Inches; Draw Weight: 220 LBS; Axle To Axle: 6 / 11.3 Inches; Length: 33.6 Inches; Weight: 7.3 LBS.
Back in 2018, Tenpoint released Shadow and Stealth NXT together. Over the years, both of these crossbows claimed both critical and user success. Stealth NXT is known for the silent noise free shooting and the stealthy looks.
410 FPS. Tenpoint always tries to beat their competition in regard of speed. That's why even their lower end crossbows have such fierce speed. With 410 FPS being legal in almost all of NA, you can easily hunt at any hunting season and in any hunting games.
Extremely compact. The axle to axle width of this crossbow is only 11.3". That's uncocked measurement. Once you load the crossbow, the width will shrink to 6". Incredible feat to rich. That can be the deal maker for a lot of you.
143ft-lbs of kinetic energy. That makes it the most powerful crossbow in the list today. While you can for sure get crossbows with more kinetic energy, make sure to spend a ton of money for that too.
Tenpoint has a ton of accessories to offer with this crossbow. The accessories list is never ending. From arrows to case to broadheads, whatever you need, Tenpoint has it for this crossbow. Keep in mind, Stealth requires a specific set of arrows to reach the claimed 410 FPS mark.
ACUdraw. Why only ACUdraw? This crossbow comes with different variants of ACUdraw cranking device installed. The Elite Pro package can cost you over $3000. We don't recommend that package at all. Stick to the ACUdraw or ACUdraw pro package.
Quick Facts:

A solid crossbow for the price. But the packages can be misleading and confusing. Make sure to get the ACUdraw pro one. Buy different accessories afterwards that you find necessary.
Pros
Lightweight and compact.
410 FPS.
143ft-lbs of kinetic energy.
Safe and silent cocking and decocking.
Great stock scope.
Excellent carrying case included.
Cons
Elite pro is unnecessary expensive.
---
6. Barnett HyperGhost 425 Crossbow Package
Specifications | Speed: 425 FPS; Kinetic Energy: 152 ft.lbs; Power Stroke: 16.3 Inches; Draw Weight: 206 LBS; Axle To Axle: 17.6 Inches; Length: 36.25 Inches; Weight: 7.7 LBS.
Barnett is one of the best budget crossbow manufacturers. If you have read our previous budget crossbow reviews, you already know how hard Barnett dominates those. Barnett HyperGhost 425 is one of the best budget crossbows on the market. We have featured this crossbow before.
425 FPS. This little crossbow packs a punch. 425 FPS is a way of showing that punch. Making it one of the fastest crossbows under $1500.
152 ft-lbs of kinetic energy. That makes the HyperGhost the most powerful crossbow under $1500. 152 ft-lbs of kinetic energy is more than what the Ravin R10 can generate. And we all know Ravin R10 is the standard that you need to beat in this price range.
Anti-dry fire and nock sensor. Anti-dry fire protects the crossbow from misfiring. Together they prevent the crossbow from firing preemptively.
Variable multi-reticle crossbow scope. When you are buying a new crossbow scope, it's easy to get lost in the available options for reticle. To cut that down for you, Barnett includes an illuminated multi-reticle crossbow scope with the HyperGhost.
Quick Facts:

HyperGhost is a monster of a crossbow. From appearance to performance, it's a monster through and through. But keep in mind it's quite tall and not compact at all.
Pros
Good build quality.
425 FPS.
152ft-lbs of kinetic energy.
Great safety features.
Good service.
Cons
Only supports HyperFlite arrows.
Quite heavy.
---
7. Tenpoint Turbo M1 Crossbow Package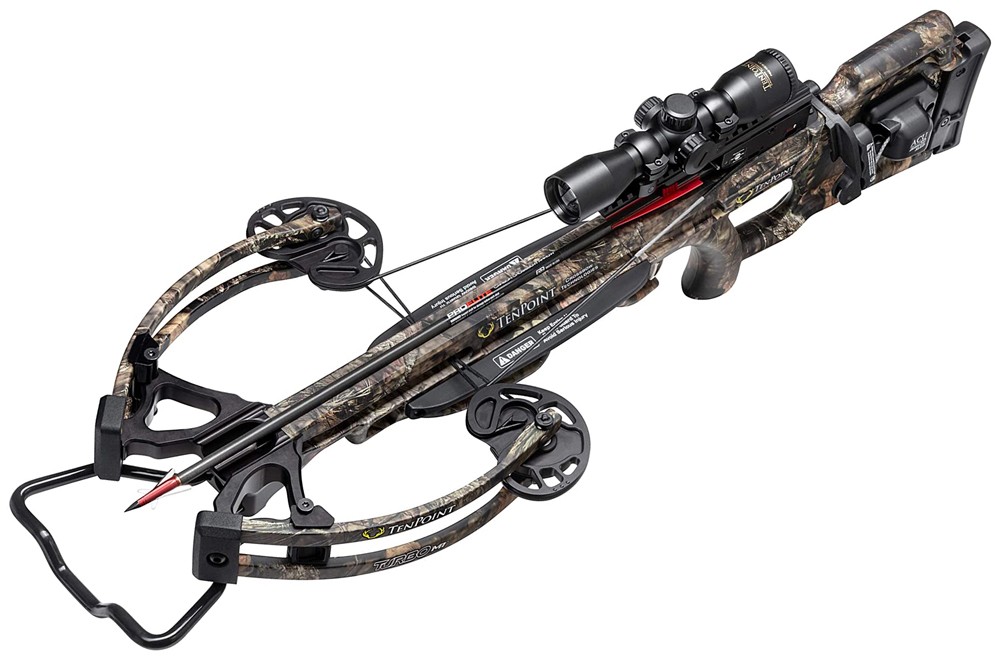 Specifications | Speed: 380 FPS; Kinetic Energy: 120 ft.lbs; Power Stroke: 14 Inches; Draw Style: Forward Draw Axle To Axle: 9 / 14 Inches; Length: 32.5 Inches; Weight: 6.4 LBS.
Tenpoint and naming their crossbows M1. Name a better duo, I will wait. Jokes aside, Tenpoint has another crossbow called Titan M1. While the similarities are there, still they are different. We are here to feature the Turbo M1 not the Titan. On to the review.
380 FPS. It's definitely not the fastest crossbow under $1500. That shouldn't takeaway anything from the crossbow. 380 FPS is more than enough for any hunting and tactical sport shooting. You can hunt deer and beer of any size with that speed.
122ft-lbs of kinetic energy. That's a lot of energy for a crossbow of this size. While it's not on the same league as the Ravin R10, the price of this crossbow is way lower than Ravin R10. For around 1000$, it's packing an incredible value.
ACUdraw pro option. You can either go for a rope cocker and save $100, or you can go all out and get the ACUdraw pro cranking device option. This is the one that I recommend.
Lightweight and compact. The weight of the Turbo M1 is only 6.4lbs. I wasn't expecting this to be so light. Tenpoint does say it's one of the lightest crossbows they made. That comment had credibility to back it up.
Quick Facts:

It's cheaper than most of the crossbows here. Yet, it made sure it provides performance good enough to be in the big league. No doubt Turbo M1 is one of the best crossbows under $1500. The price to performance value is quite insane.
Pros
Affordable.
Good build quality and lightweight.
380 FPS.
122 ft-lbs of kinetic energy.
Silent and deadly.
Highly accurate.
Cons
The included scope is not that good.
Tenpoint rates their crossbows with different arrows.
---
Frequently ASK Questions
Are $1500 Crossbows Worth It?
They are more than worth it. $1500 is a lot of money. Think of it as an investment. You are not going to change that crossbow any time soon. It needs to serve the purpose for a long-time. Crossbows in this range will do that without any issues for years. You need to take care of them and not hurt them intentionally.
How Can I Make My Crossbow More Damaging?
You can't make your crossbow more powerful on the fly. But you can increase the damage output of a crossbow by using the right arrow. A lots companies have their specific set of arrows for a specific crossbow. Without those arrows you won't be able to reach the claimed speed or the power. That's why use the specific arrows mentioned by your crossbow manufacturer. Use broadhead to do more damage. Broadheads pierces through the meat clamps from inside. Making the prey fall faster.
Can I Shoot A Deer In The Head With A Crossbow?
Of course, you can. Why wouldn't you be able to do that? You can do that with a pistol crossbow even. It you will vastly depend on how capable you are with a crossbow and if the wind is in your favor or not. Hitting a running deer will be hard, but it's not impossible.
There is plenty of deer hunting crossbows which I reviewed earlier. Click here if you wish to know about them.
What Happens When A Crossbow String Break?
Most of the time, nothing. You need to replace that string and you are done. The CAM systems are in not indestructible, but they are sturdy enough to hold some hits from broken string. If you are using a compound bow, then replacing the string on your own will be quite tough task to do.
How To Safely Fire A Crossbow?
Don't aim it towards yourself or anyone close to you. Make sure the trigger safety is turned off and you have a steady hand. If you don't have a steady hand, then try to use a bipod for crossbow. Remember your aim is everything. Don't let the recoil drive the crossbow away from you. Keep your shoulders firm and in place.
---
Best Crossbow Under 1500: Conclusion
If you read through the whole review, then you already know which crossbow is the best for you from the list. $1500 is not a small some of money. But it's not the most expensive either. Think of it as an investment for the future. You will participate in plenty of hunting competition and seasons with this crossbow. in the long run, it will easily compensate for the money you are investing.
Not all crossbows are "the best". But I can say without any doubt, these are the some of the best crossbows under $1500.
Thanks for reading and I hope you found this review useful. Do let us know if you want any specific crossbows that we should feature here. Till next time.